Jesse Jackson Confronted on His Silence of Black Genocide in America
During the height of the 2016 campaign season, Reverend Jesse Jackson was confronted in the media press room at the vice-presidential debate over his long-time silence on the issue of black genocide.
Terry Beatley, founder and president of the Hosea Initiative, shared with the hosts of the web-show, Life Talk, the question that seemed to stun him into speechlessness:
"Reverend Jackson, I would like to know why 30 years ago you helped to expose the racist population control plan of Planned Parenthood's founder, Margaret Sanger, and now today, you don't say anything about it. It is killing more black people than all diseases, accidents and homicides added together. Why don't you help expose it anymore?"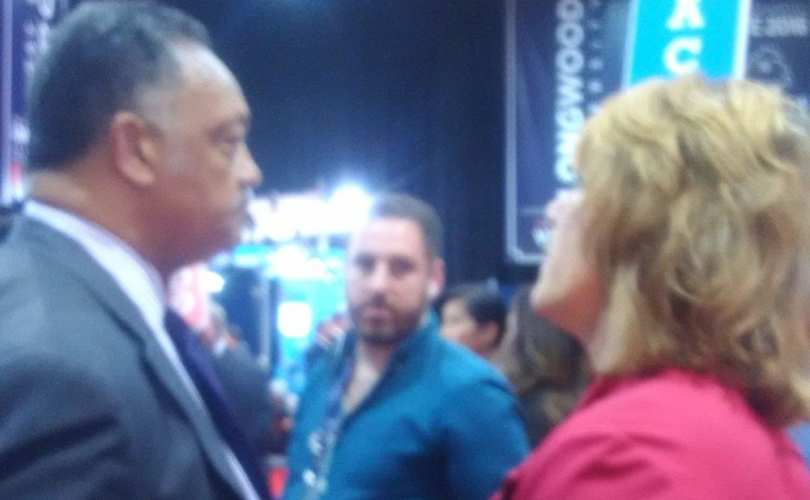 Most people know Jesse Jackson as a civil rights activist who got his start in the 1970s.
But what many do not know, is that as early as 1970, he was speaking out against birth control and abortion. Jackson saw these things as "warfare" against the poor, the disabled, and minorities. In 1973, he stated in no uncertain terms that abortion was "genocide."
"Abortion is genocide. Anything growing is living… If you got the thrill to set the baby in motion and you don't have the will to protect it, you're dishonest… You try to avoid reproducing sickness. You try to avoid reproducing deformities. But you don't try to stop reproducing and procreating human life at its best. For who knows the cure for cancer won't come out of some mind of some Black child?"

Reverend Jackson, Jet Magazine Mar 22, 1973; p. 15
However, when Jackson began his campaign for president in 1984 – his tune changed. No longer did he call abortion a matter of life or death. In fact, Jesse Jackson went on to support Medicaid funding of abortions for low-income women – the very thing he described as "warfare" just years earlier.
Terry Beatley says that Jesse Jackson knows he's sold out to the abortion industry.
She adds that it's the reason that Jackson couldn't look her in the eye, and ultimately took off, after she asked why he remains silent on the ongoing genocide.
"Reverend Jackson is another pastor who has turned his back on the truth of black genocide via the abortion industry, while Hillary Clinton boasts about her Margaret Sanger Award from Planned Parenthood. Silencing the voice of pastors and babies, the aggressive abortion industry – with its puppet masters in command – use many pastors to advance their population control agenda."
See the Life Talk interview with Terry Beatley her confrontation with Jesse Jackson:
Terry Beatley explains that the silencing of outspoken pastors is part of a plan called, The Negro Project. This project was started by none other than Planned Parenthood founder, Margaret Sanger, and later carried on by Dr. Bernard Nathanson, the co-founder of NARAL Pro-Choice America and the father of America's abortion industry. Nathanson experienced a conversion later in life and sought to reveal the strategy of his deceit to the world.
In her new book, What If We've Been Wrong? Keeping my promise to America's Abortion King', Terry Beatley shares Nathanson's personal parting message and exposes the abortion industry's deceit. Her new book can be purchased at AbortionKing.com
The episode of Life Talk featuring this interview with Terry Beatley also contains an interview with Clenard Childress, the director of L.E.A.R.N.. Pastor Clenard Childress talks with the hosts about the active censoring of the black genocide that has occurred in America due to eugenics.
Watch the Full Episode Below:

---